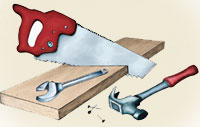 Call: 902-953-1088
Deck building, Deck replacements extensions, repairs, or if you just want a new deck.
Handyman for Hire coverage Truro, Masstown, Debert, Valley, Bible Hill, Onslow service outside this area is possible on a case by case basis. General carpentry - carpenter services.
Have you started a job and do not have the time, tools or skill to finish it??
Have a long list of smaln handle that. have a large renovation to do we can and do that as well.
Hired someone who has not show up to do the work? Give us a call we will take care of it.
Have a small job that need doing give us a call. Full renovations competed from start to finish.
Only have limited funds to do a project?
Allow us to take a small or large portion of the work?
Painting, fence building, bathrooms, kitchens, drywalling, decks, general carpentry jobs , handyman services general repairs and more. coverage area includes Truro, Bible Hill, Masstown, Debert, North River and most of colchester county